East Rockford High School
Class Of 1963
In Memory
Barbara Beck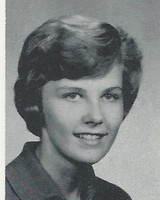 Barbara Beck, 20, daughter of Mr. And Mrs. Richard Beck, 720 Parkwood Ave. and a student at the University of Iowa, Iowa City, died at 10:05 pm Sunday in the University Hospital, Iowa City, of a spinal hemorrhage suffered 10 days ago.
Miss Beck was a junior at the university and had graduated from Rockford East High School in 1963 where she was active in Dorado, French Club, and was Battle Group Sponsor for R.O.T.C.
She was also active in the youth group of Westminster Presbyterian Church and in activities at the University of Iowa.
She is survived by her parents: a brother, Jonathan, junior medical student at the University of Iowa; a sister, Janet, eighth grade student at Lincoln Junior High School; and her grandparents,
Mr. and Mrs. Chester Beck, Santa Cruz, Calif.
Funeral services will be at 10a.m. Wednesday in Westminster Church. Burial will be in Scandinavian Cemetery. Funeral arrangements by Fred C. Olson Mortuary.