East Rockford High School
Class Of 1963
In Memory
Diane Kallenbach (Moberg)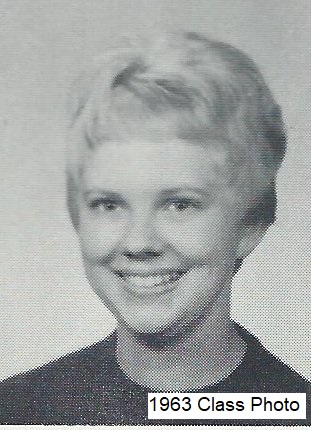 Diane K. Moberg 1945—2020
Diane K. Moberg earned her angel wings on Monday, December 14, 2020 when she was welcomed Home by her Lord in Heaven following a short battle with cancer. Diane was born May 14, 1945 in Rockford, the daughter of Glendon and Alice (Flood) Kallenbach. She grew up and attended schools in Rockford, graduating in 1963 from East High School. She went on to marry and raise her family – the most important and fulfilling job she ever had! She loved cooking and especially baking which eventually led to what she considered her "fun" job as the dessert and pie maker at Stockholm Inn. There she developed the recipe for her famous and still sought-after Vanilla Pecan Pie. In 1996 Diane moved to Cape Coral, FL where she worked for over 20 years in the Medical Records Department of the Southwest Florida Heart Group. While in Florida, she made many lasting friendships especially those of her "church family". After retiring in 2018, Diane returned to Rockford to be closer to her family and to her childhood church, Salem Lutheran, of which she was a member. Diane leaves behind to cherish her memory those she loved and adored. She is survived by two daughters; Jill Johnson, Belle Chasse, LA and Julie Hysmith, Rockford; one son; Jeff Heatherington, Rockford; 6 grandchildren; Jessie, Josiah, and Jacob Johnson of Louisiana, Rachel (Rudy) Heath of Madison, WI, Keith Oldigs of Rockford and Jason Heatherington of Reedsburg, WI; great-grandson, Zachary Johnson of Louisiana; sister, Nancy (Mike) Parker; sister-in-law, Mary Kay Wheeler; and many nieces, nephews and cousins. She was predeceased by her parents, grandparents, brother, Richard F. Kallenbach (2019), Keith Heatherington, father of her children and good friend (2019); grandson, Joshua K. Heatherington (1987), niece Kari Jo Kallenbach (2006) and all of her many aunts and uncles. The family would like to thank Diane's special friend, Sheila Knedler of Cape Coral, FL and Heartland Hospice of Rockford for their wonderful unconditional love, care and support given Diane and her family during her final days.
A Celebration of Life will begin at 2:00 p.m. on Saturday, June 12, 2021 at Salem Lutheran Church, 1629 S. 6th St., Rockford, IL 61104. Visitation will be from 1:00-2:00 p.m. prior. In lieu of flowers, memorials may be made to Salem Lutheran Church. To share a memory or condolence, visit olsonfh.com.